Assisted Transportation for Seniors & the Disabled in McDowell County, WV
Appointment, Grocery Shopping, Pharmacy, & Post Office Rides
The McDowell County Commission on Aging's Assisted Transportation Program provides essential transport services for seniors and disabled residents living in McDowell County, West Virginia. Transportation assistance is available for eligible seniors who can no longer drive safely, who require short-term assistance due to illness or surgery, those who can no longer afford to maintain a vehicle, or who are otherwise unable to drive. We operate a fleet of vehicles and handicap-accessible vans for non-emergency and assisted transportation to provide rides to:
Medical Appointments
Recreational Activities
Grocery Stores
Senior Centers
(for holiday celebrations & educational events)
Post Offices
Pharmacies
Assisted Transportation
Reliable Transportation Helps Maintain Independence and Dignity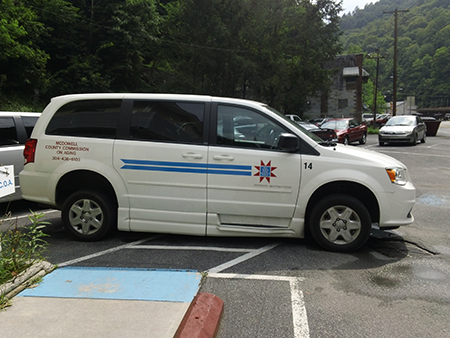 When your loved one receives in-home care outside of a nursing home or institutional setting, it is important to remember that he or she still requires reliable transportation to obtain groceries, visit the doctor, pick up medications, and take care of other essential tasks. Aside from the necessities of life, getting out of the house also helps our clients to maintain a sense of dignity and independence.
Some things that we tend to take for granted, such as being able to select a birthday card and mail it or selecting our own groceries, can significantly improve the life quality of our older family members. The availability of reliable transportation also helps guard against depression, isolation, and declining health.
Handicap Accessible Vans for Transportation in McDowell County, WV
Does your loved one depend on an assisted ambulation device, such as a walker, cane, forearm crutches, mobility scooter, or wheelchair, to walk/achieve mobility? The McDowell County Commission on Aging provides assisted transportation for eligible individuals with a variety of mobility impairments. We are happy to provide arm to arm, elbow to elbow, door through door, and door to door service to our riders who have physical or cognitive difficulties. Our drivers are compassionate, patient, and have been trained regarding the proper techniques to assist our clients with mobility challenges reach their destinations, and safely return home.
Eligibility guidelines apply for our transportation program. Contact the McDowell County Commission on Aging to learn more about our program, apply for ride services, or to schedule a transport: (304) 436-6588.
---
Title VI Notice
McDowell County Commission on Aging, Inc. operates its programs and services without regard to race, color, and national origin in accordance with Title VI of the 1964 Civil Rights Act. To find out more about our nondiscrimination obligations, to file a complaint, or to request this information in another language, please contact us at 304-436-6588.